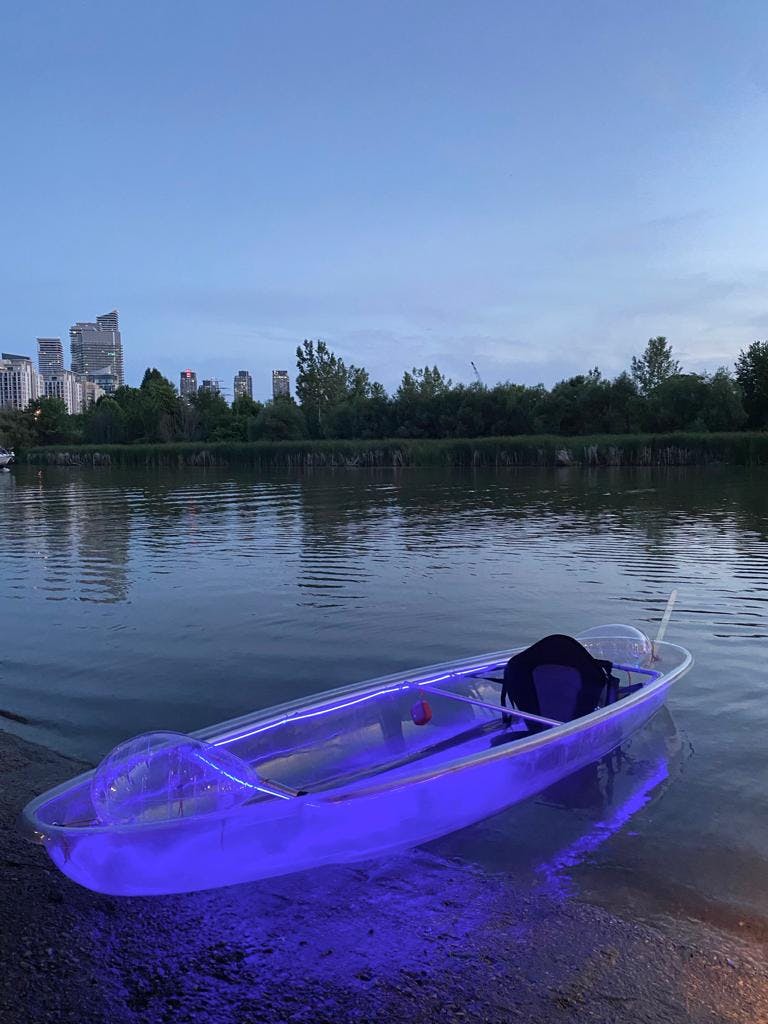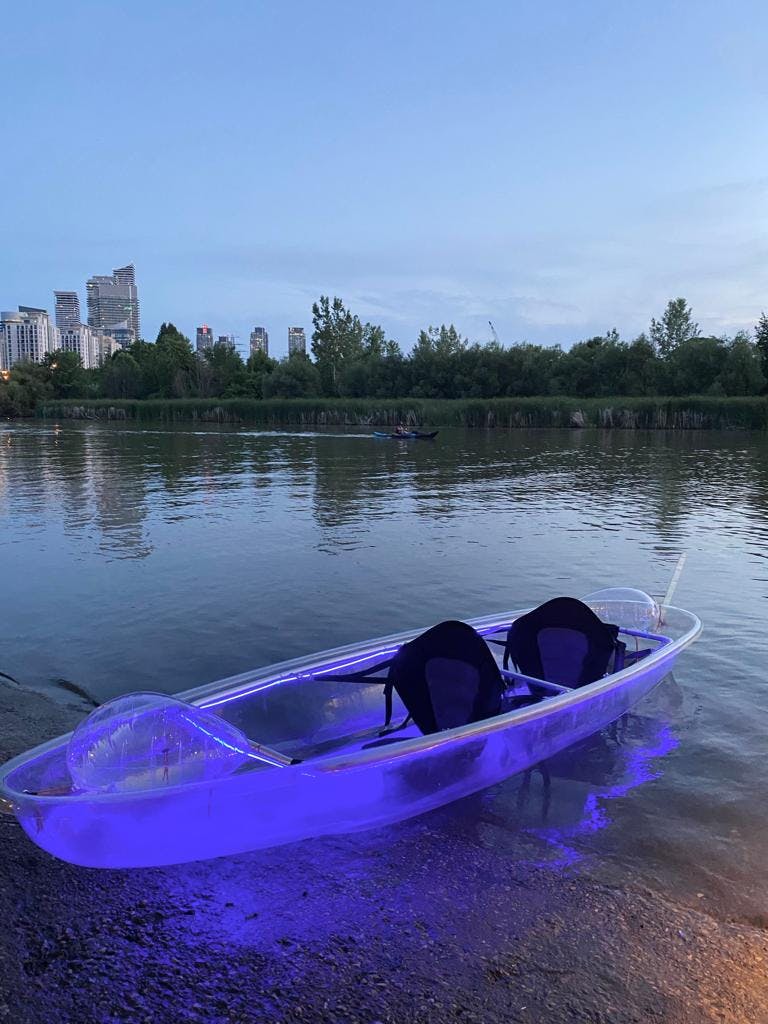 To maintain our emergency procedures, single kayaks are unavailable for reservation during the evening timeslots.
What's included in your mission?
See the World.
With our completely transparent hull
Set the Tone.
With your favourite tunes!
Set the Mood.
With your choice of LED light
Paddle Away.
With your choice of paddle colour
Stay Afloat.
With a PFD. (A PFD must be worn by all participants)
Stay Safe.
With a whistle, 50 ft rope, flashlight and bailer. All items available in your safety kit
Stay Bug Free.
With a buzz patch repellant sticker. (additional cost)
Stay Dry.
With a waterproof zip lock to help keep your important items safe
Get Comfortable!
Paddle lessons are available for first time paddlers free of charge

AGE REQUIREMENT
5 years of age (A wavier must be signed by parental guardian).Children under the age of 12 years old must be accompanied by an adult.

WEIGHT CAPACITY
192 kgs / 425 lbs per kayak

PETS
Small pets are permitted on our equipment. We do not provide PFDs for pets.

COVID PROTOCOLS
All kayaks and items are disinfected between each use. Hand sanitizer and wipes are provided to guests upon request.

WHAT TO BRING
Be prepared to get wet! Bring appropriate clothing or a change of clothes. Clothing items to consider - extra pants/shorts, waterproof shoes, sandals, a hat & sunscreen.

PERSONAL ITEMS
You may bring your personal items with you in the equipment. You may also leave them on site, however we are not responsible for any damaged, lost or stolen equipment.

RESCHEDULING POLICY
To reschedule your reservation, please click the link in your booking confirmation email to choose another date. Alternatively, you can reply to your booking confirmation email with the request to reschedule. Please note, you will not be able to reschedule within 24 hours of your reservation and you will not be entitled to a refund.

CANCELLATION POLICY
To cancel your reservation please send an email in reply to your booking confirmation email. Please include your reservation details. You must provide at least 24 hours notice to receive a full refund. You will not receive a refund if a cancellation is made within 24 hours of your reservation.

WEATHER CANCELLATION POLICY
If the current weather is not ideal (i.e. rain / lightning / high wind speeds etc.) we have the right to cancel your reservation for your safety. You will be notified at least 2 hours before your scheduled booking via email. Please note, all weather cancellations will be rescheduled or fully refunded.

LATE POLICY
Please plan to arrive on time. If you are more than 30 minutes late for your reservation, Illuminated Escapes reserves the right to cancel your reservation and you will not be entitled to a refund.

LATE RETURN POLICY
Each rental is for a duration of 1 hour & 45 mins (105 mins). If you return late from the excursion, this greatly affects our operations. Illuminated Escapes reserves the right to charge a late fee of $20.00 per each 15 min interval you are late.